Intelligent Monitoring Solution for Water Supply Network
Have you ever wondered where does the drinking water come from?
Yes, water comes from rivers, lakes, and seas, but before we can drink, the water must be treated by a water plant, then pressurized by a pump station, and distributed to the urban municipal water supply network, and to each water spot. If water is the source of life, then the water supply network is the lifeblood of urban construction, people 's lives, and industrial development.
Demand for water supply promotes smart water upgrading
With the rapid development of the economy and the continuous improvement of urbanization, the water supply network as one of the most important urban infrastructures has also expanded rapidly.
While at the same time, the increasingly large and scattered water plants, pump stations, pipeline networks, and users have increasingly complicated water management needs for water supply, drainage, sewage treatment, etc. Facing that, how to achieve a unified, comprehensive, efficient, and real-time water supply scheduling management to effectively ensure the demand for urban water supply? It puts forward higher requirements for related management companies and institutions.
Therefore, the water companies need to fully consider the overall comprehensive needs, establish a water supply pipeline network management platform for the whole process to achieve the strategic goal that the company's pipeline network realize wide information sharing, process improvement, management standards, scientific scheduling, effective investment, and cost control, thus to achieve long-term and sustainable operation.
Intelligent monitoring solution for water supply network
Aiming at the needs and pain points of the industry, Micro Sensor Internet of Things team combined with professional technology and years of accumulated experience, launched a smart monitoring solution for water supply network, and built a monitoring system through integrated software and hardware facilities to help the intelligent transformation and upgrading of water companies.
The whole system consists of a big data platform, measurement and control system, and terminal monitoring unit, etc.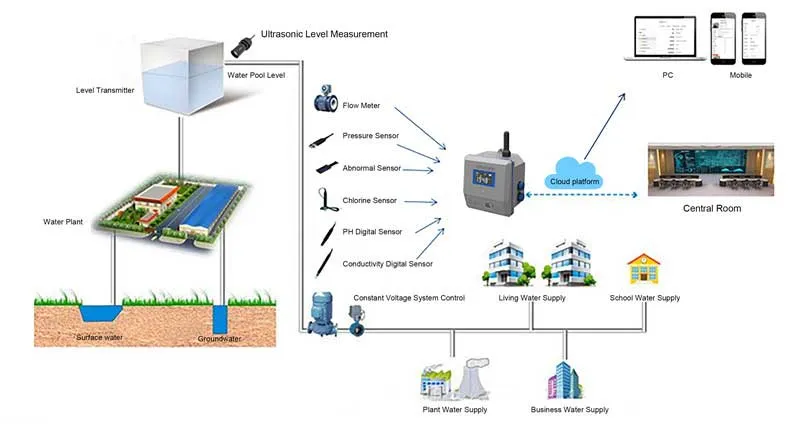 Multi-parameter terminal monitoring

Through the supporting pressure sensors, water level sensors, water quality sensors, electromagnetic flowmeters, and various smart meters, wireless terminals, and other terminal monitoring equipment, the system can operate real-time monitoring and data collection, and the data is transmitted to the cloud platform through the wireless network transmission.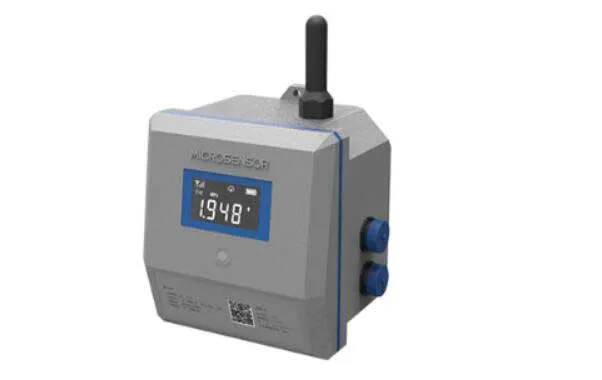 Smart big data platform real-time management
A smart big data platform for the pipeline network is built with cloud computing, big data, and other technologies. Based on the functions of device management, data management, and analysis, location management, security certification, and alarms, etc., it offers graphically and visually process and displays the collected data to provide decision-makers with multi-dimensional data for the first time, so as to effectively achieve the needs of water quality monitoring, flow control, water supply scheduling, pipe explosion warning, and other functions.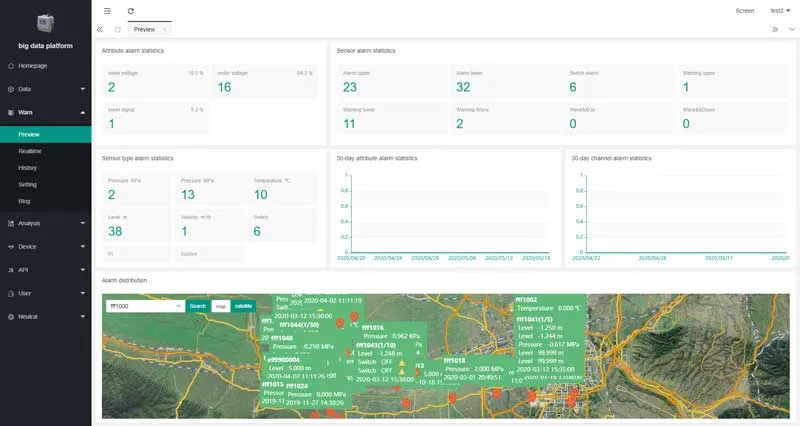 Outstanding advantages in quality and efficiency
? Remote monitoring, real-time alarm: 7 * 24 hours monitoring of the pipeline network, if a fault occurs, the system triggers early warning according to the rules in time, reducing delay and information errors.
? Controllable maintenance quality: maintenance and inspection work is implemented. The system automatically reminds missed inspection, reports.
? Standard workflow: all work is automatically driven and implemented by the system, completely changing the original unordered workflow.
? Improve management efficiency: change the traditional non-recorded, non-monitored, and non-tracking communication mode to achieve rapid troubleshooting.
? There is a basis for the division of responsibilities: Once the management accident occurs, from the clear electronic system records, each working link will be checked to avoid the drawbacks of the traditional operation responsibility division.
? Saving management costs: The system automatically analyzes and summarizes reports, saving manpower, material, and financial costs.
From the sensing layer to the application layer, from the hardware to the software, Micro Sensor Internet of Things water supply network intelligent monitoring solution fully integrates the advantages of the new generation of information technology, forming a complete set of closed-loop systems that plays a key role to ensure residents' water supply, develop managing efficiency and build smart water services.
Feel free to contact us. Micro Sensor focuses on R & D and production of IoT sensors and is in a leading position in the industrial IoT industry. It has been recognized by peers many times and won the honor of "2018 China's Most Influential Internet of Things Sensing Enterprise Award" of China Internet of Things Alliance. It is currently China's most influential sensing enterprise. It has systematic solutions and capabilities in sensor production, data collection terminals, cloud platforms, etc.