Micro Sensor MPM489 piezoresistive pressure transmitter has been developed for industrial fluids pressure measurement for decades. So far, millions of MPM489 have sold and won a good reputation. Meanwhile, Micro Sensor continues to upgrade the MPM489 series to make it more user-friendly for more comprehensive pressure measurement in various complicated applications.
Micro Sensor now upgrades the MPM489 series with ATEX certification expansion to offer you more options.
For the upgraded version, the ATEX certificates include 3 kinds of cable materials, nearly 30 different threads, a 3.3VDC low power supply, and multiple sealing methods.
For the upgrade version, both MPM489 and MPM489W have better compatibility, more convenient installation to satisfy customers' various application requirements.
ATEX (ATmosphères EXPLOsibles) means "explosive atmosphere". It is an explosion-proof directive adopted by the European Union and specifies the technical requirements for equipment used in potentially explosive environments.
Simply put, if your product is applied in an explosive environment, and if you want to sell it in the European market, you must acquire the ATEX assessment process.
The key part of this ATEX expansion of the MPM489 series is on the process connections, output signals, and materials, etc.
1, multiple cable materials, stronger compatibility
In addition to polyethylene PE and polyurethane PUR, the cable material polyvinyl chloride (PVC) is also included, which can be compatible with more media, such as propane, fuel, lubricating oil, water and wastewater, oil and natural gas, household heating oil, motor oil, diesel engine exhaust gas treatment fluid, etc.
2, more process connections, easy installation
On the basis of the original metric M thread, this expansion of MPM489 and MPM489W adds more threaded pressure ports of multiple standards, which are suitable for more connection and make installation and use more convenient for customers.
G-type thread newly added: G1/4 male, G1/4 male waterline seal, G1/4 female, G3/4 male, G1/8 male, G3/8 male face type seal, G3/8 male waterline seal.
American Standard thread: 7/16-20 UNF male and 7/16-20 UNF female, NPT1/2 female and male, NPT1/4 female and male, NPT1/8 female and male, NPTF1/4.
3, the new output signal for options
Besides general 4-20mA, 1-5VDC, 0-5VDC, 0.5-4.5VDC and 0.5~2.5V DC can be supplied to match low-power operation applications to satisfy customers' requirements.
In addition, in order to ensure the long-term stable and reliable use of products in various media, we have also added higher-grade materials to the related sealing materials of the structure of cable locking.
As the Micro Sensor hot sales product, in addition to ATEX, MPM489 pressure transmitter and MPM489W level transmitter have also obtained other more certifications, such as intrinsically safe explosion-proof certification, Exd explosion-proof certification, ship use, CE, SIL, RoHS, etc., which are the most comprehensively certificated. They can be applied to hydraulic, hydrology and water resources, water conservancy and hydropower, engineering machinery, petroleum and petrochemical, marine, textiles, metallurgy, and household appliances, and other industries and fields, providing safety guarantees for many customer applications.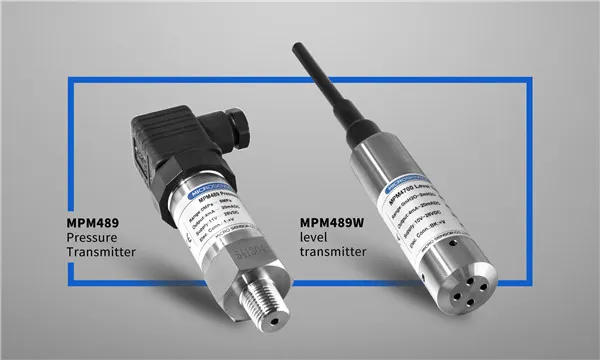 New upgraded MPM489 pressure transmitter /MPM489W level transmitter to offer customers more choices, stronger compatibility, and wider application. Custom design is available, click to submit customization requirements.