Background
1. The circuit and program algorithm are upgraded which improves the accuracy. Within the compensation temperature range, the typical error in full temperature range is better than 0.1%.
2.Power consumption battery-powered MPM4760 series is optimized. It can measure pressure at real-time with LCD display more than 3 years;
3. RS485 ModBus RTU communication protocol now is optional.
4. Four and a half digits LCD display with backlight is available.
Features
· Precision digital temperature compensation and non-linearity correction technology.
· Typical error of digital and analog output <0.1%.
· Wide temperature range LCD display (-30 ° C - 80 ° C).
· Four and a half digits LCD with backlight.
· Two sets of data LCD displays with multiple data type indications. It can display pressure, temperature, output current, maximum value, minimum value, unit, and overrange alarm, etc.
· Two-wire 4mA - 20mA DC output.
· With RS485 communication interface, support ASCII and ModBus RTU protocol.
· Passive calibration, range scaling, factory parameters can be restored.
· Parameters can be configured by buttons and communication interfaces.
· All stainless steel housing, maximum diameter 76 mm;
· The display supports 90°rotation.
· Battery-powered with no-output and battery-powered with RS485 output available.
· With comprehensive perfect protection circuit, the protection level for surge, group pulse and static electricity can reach grade B or above.
Specification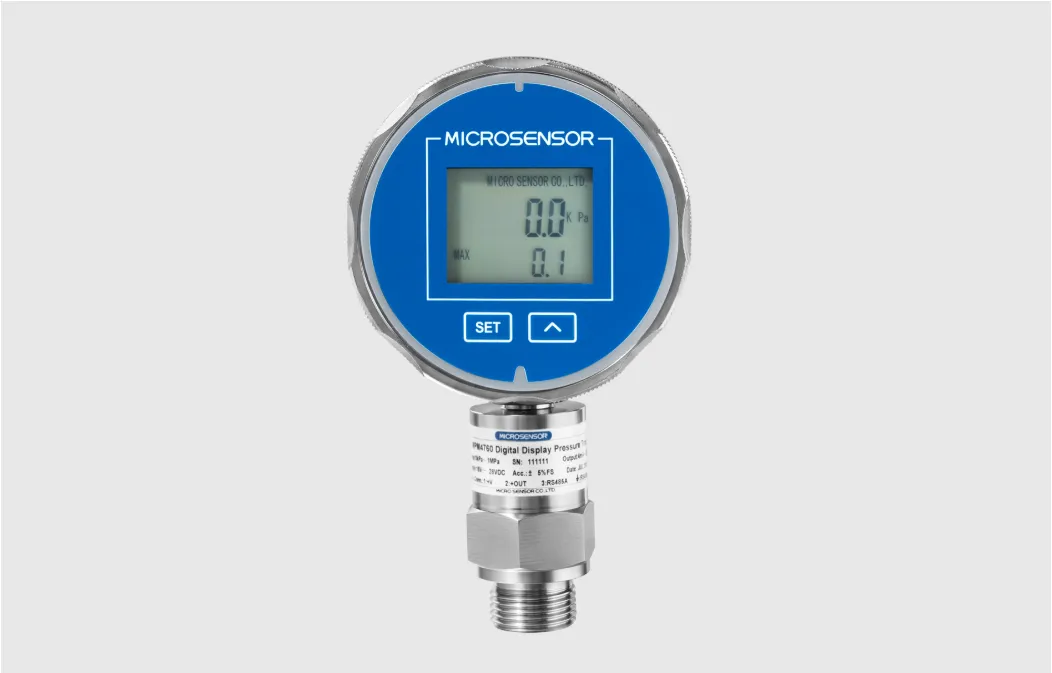 MPM4760 Intelligent Digital Display Pressure Transmitter
Range: -100kPa...0kPa-10kPa...100MPa
MDM4760 Intelligent Digital Differential Pressure Transmitter
Range: 0kPa - 35kPa ... 3.5MPa
Total Accuracy: ± 0.1% (typ.), ± 0.25% FS (max.)
Long-term stability: ± 0.2% FS / year
Working temperature: -30 ° C ~ 80 ° C
Storage temperature: -40 ° C ~ 85 ° C
Output signal:
Standard type: 4mA ~ 20mA DC (two-wire), RS485 interface
Battery powered conventional type: none
Battery powered with RS485 type: digital RS485 interface
Contact us
Micro Sensor provides customers with product solutions for pressure sensing and measuring. Don't hesitate to contact us via sales@microsensor.cn.