We introduced the intelligent monitoring solution of the Water Supply Network. The whole solution is made based on the actual needs of water supply management and combines various sensors and cloud platforms, big data, and other cutting-edge technologies. It has the perception layer, network layer, the platform layer, and the final application layer to complete a closed loop. In this complex overall system architecture, the most important core is the Earth1006 Remote Terminal Unit.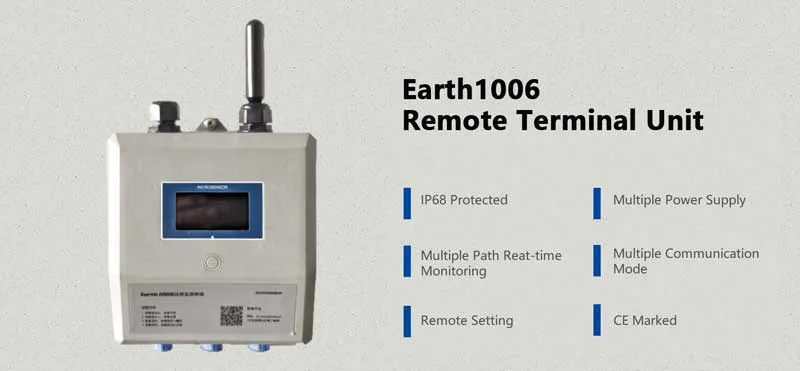 Wireless Monitoring? Check Earth1006.
Earth1006 is a comprehensive wireless monitoring device integrating data collection, storage, alarm, and transmission functions independently developed and manufactured by Micro Sensor. It has the advantages of low power consumption, multi-channel, high waterproof, and full all-band network communication. It can be applied to remote wireless water supply monitoring in multi-industry, multi-scenario monitoring local sites.

Why Earth1006 Can Be the Key Element?
In the actual monitoring site, data is collected through sensors such as electromagnetic flowmeters, pressure transmitters, liquid level transmitters, ultrasonic level probes, etc. The data is uploaded to the remote monitoring terminal, and then the edge calculation of the remote monitoring terminal is used to filter and transmit data to the cloud platform in real-time. It can be said that Earth1006 is a distribution center, filter network, and transfer station for real-time data.
Applicable In Various Complicated Applications
The water supply monitoring is mainly for underground, so the overall monitoring of the water supply network is generally composed of underground monitoring units. Underground scenes often have complex on-site conditions, diverse monitoring parameters, high humidity, poor signal, and no power supply. The application environment is quite harsh. The Earth1006 remote terminal unit solves these problems by product design, technical solutions, and installation methods, etc.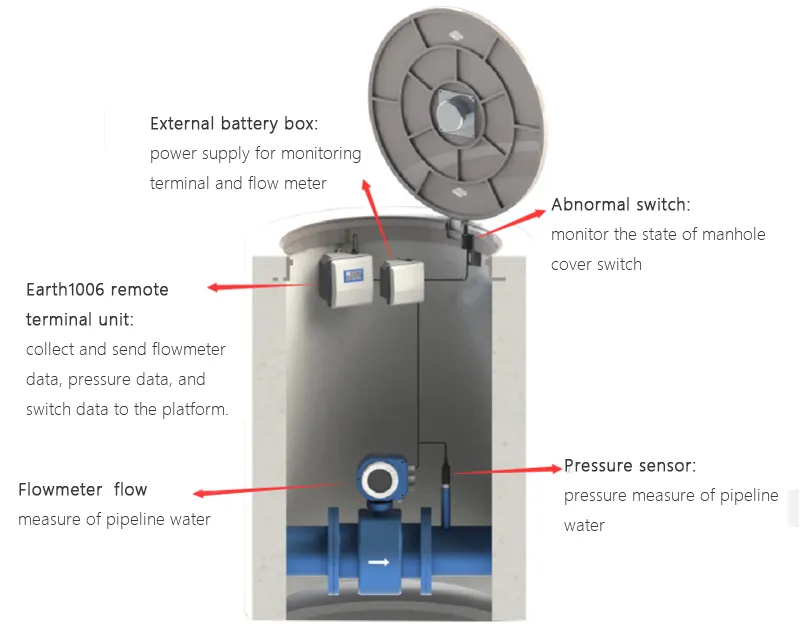 Schematic diagram of the underground monitoring unit of the pipe network
1. A variety of power supply modes to solve the difficulty of power supply in underground wells: Earth1006 can choose to install 57Ah / 14.6V large-capacity disposable batteries, external battery packs, and rechargeable battery kits, which greatly facilitates maintenance work such as replacement of batteries in the future.
2. Use a high-gain antenna to solve the problem of signal difference in underground wells: custom high-efficiency pure copper antenna, microwave darkroom efficiency analysis is more than 50% of traditional antenna efficiency, which can meet the reliable transmission of data under poor signal transmission conditions due to the cover of the well.
3. IP68 protection, to solve the problem of high protection requirements in underground wells: Once a pipe explosion occurs in an underground well, the water level rises quickly. The monitoring equipment needs to be able to work normally underwater and report the monitored content to the platform. Earth1006 is IP68 waterproof test certificated, can work normally for at least 72 hours under 1 meter of water.
4. A variety of external interface versions, supporting the simultaneous acquisition of multi-channel and multi-parameter underground: the device can support up to 3 AI analog signals 0 ~ 5V / 4 ~ 20mA multiple standard signal sensors, 2 DI / PI switches/pulse sensors, Three ModBus RS485 communication protocol sensors provide more choices for underground access equipment.
5. Diversified communication modes, common in global networks, to ensure the safety and stability of information and data transmission: support 2G / 4G full Netcom, etc., and NB-IoT communication mode, which can reduce device power consumption.
6. Simple installation, convenient maintenance, to solve the problem of operation difficulty in underground wells: extremely simplified stand design, supporting two installation methods: hoop type and wall-mounted type: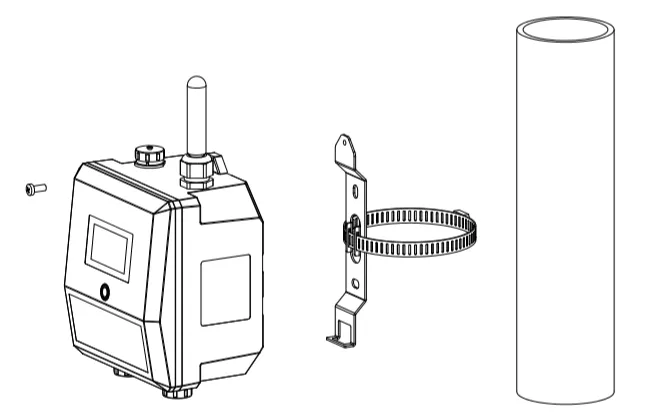 Only three screws are needed to install the bracket on the well wall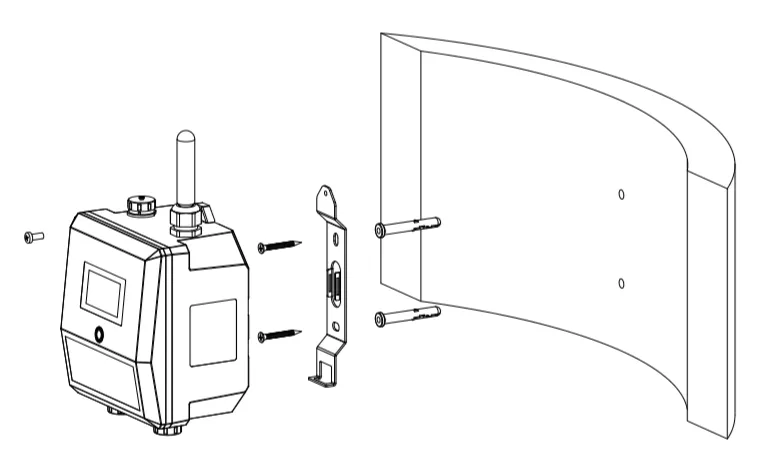 Only one screw is needed to install the Earth1006 device on the bracket
Ever since Earth1006 is applied for water supply pipeline monitoring, it has won a good reputation from many customers, and Micro Sensor has also optimized and upgraded it many times to continuously improve its performance. In addition,

Micro Sensor actively assisted the development of smart water services for many years, and have accumulated deep experience in water supply management, drainage, and sewage application fields. No matter the comprehensive solution, or the monitoring equipment such as sensors, they are more targeted and applicable to the industry. We can provide customers with better products and customized solutions. Feel free to contact us for more details or customized solutions.
We will detail the actual application case of the water supply network smart monitoring solution in the water plant renovation, so stay tuned ~