1. Introduction
Customers are able to set collection rates on their own needs, check and download real-time and historical data from the internet, which helps users be aware of on-site conditions accurately and timely.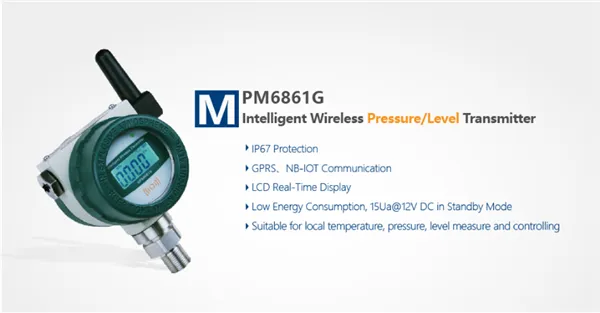 MPM6861G(W) pressure/Level transmitter can be used for real-time control of multiple monitoring spots on large scale such as mine well, drinking water pipeline, and firework pipe network.
2. Features:
(1) Optional communication: GPRS/NB-IOT communication available
(2) Real-time data inquiry: PC or Mobile for history and alarm condition
(3) Battery Power Supply: Low consumption
(4) Cut-off Alarm: UPS insert Battery with cut-off alarm for continuous transmission
(5) Message Alarm: the message will send once data is abnormal
3. Specifications:
(1) Pressure range: Range: 0kPa~100kPa...10MPa
(2) Accuracy: ±0.5%FS
(3) Output Signal: LCD display, GPRS/NB-IOT wireless signal transmission
(4) Pressure Type: Gauge/Absolute/Sealed Gauge
(5) Operation Temperature: -20℃~70℃
(6) Storage Temperature: -30℃~80℃
(7) Relative humidity: 0%~95%
(8) Protection: IP67
(9) Vibration: ≤3g/10Hz...150Hz(IEC 60068-2-6-2007)
(10) Press Button: magnetic bar Contact display
(11) Diaphragm: Stainless steel 316L
(12) Weight: ~1.6Kg
4. Application Topology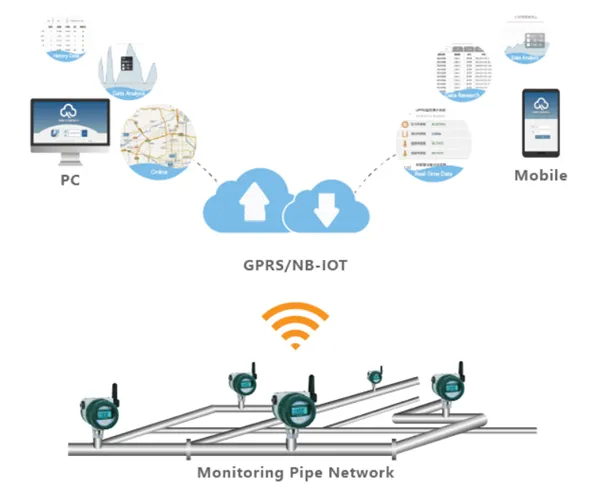 5. Installation:
The installation of MPM68861G pressure transmitter and MPM6861GW level transmitter is as follows: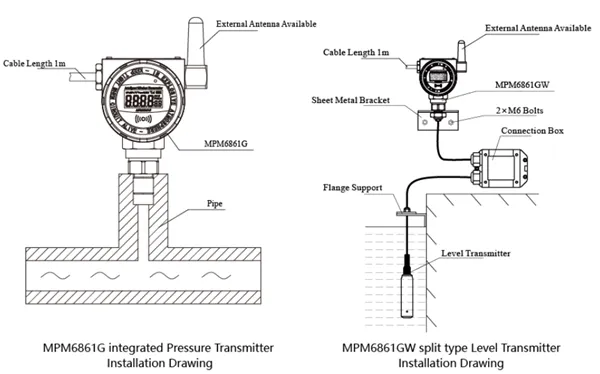 6. Extended Application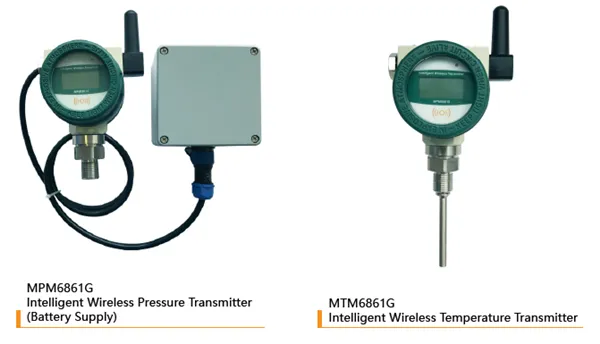 MPM6861G intelligent wireless pressure transmitter can be extended according to customers' needs like the picture shows:
A battery supply wireless pressure transmitter and moreover, MTM6861G intelligent wireless temperature transmitter for temperature measurement.
7. Application Case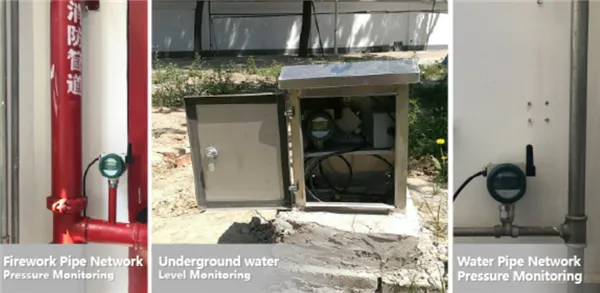 More product information and solutions for underground water wireless control, feel free to contact us via sales@microsensor.cn or leave us messages, our sales engineer will contact you within 24 hours.
Previous posts:Product Introduction-Full Range Piezoresistive Pressure Sensor with Compact Size
Next chapter :Well Monitoring System - Earth1006 Remote Monitoring Terminal