1. Background
Due to long service and poor automatic control of the old hydropower stations, the governor system for regulating the power output and rotate speed of hydro turbines generating set fails to work frequently, which seriously affects the normal operation of the hydro turbines and daily power generation.
As the operating system of the governor system, the oil hydraulic system affects the regulation of the hydro turbines directly based on its normality and reliability of its operating pressure.
2. Main Problems
In an old hydropower station, the governor of hydro turbines is a mechanical hydraulic type and its oil hydraulic system is the power source for operating on-off service and automatic speed regulation of hydro turbines set. Generally, the governor with a great shift of the oil pressure, frequent action, and simple designed automatic system and short of protection, brings various unsafe factors to the unit operation.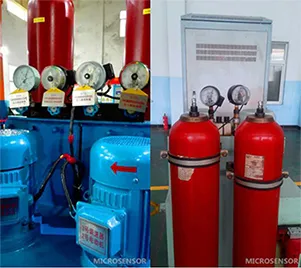 Old Governor System

Common Failures:
1) The small contact capacity of the electric contact pressure gauge brings its frequent starting-up, then singeing easily occurs and causes bad contact and unreliable action.
2) No well-equipped man-machine interface contacting with PC for transferring significant signals and switching values, failure signals of the governor for example.
3) Imbalance of equipment utilization that the main pump operates while the spare one stands by for a long time. The spare one cannot be checked which makes it lose efficiency easily once the emergency occurred.
4) Incomplete protection system. Old electric design, poor quality, and function of pressure elements cannot ensure start or stop system automatically after long time use.
3. Solutions
1. MPM4881 pressure transmitting controller helps to eliminate the possibility of main failures occurred in the old governor and accelerates the improvement of the automatic control system in the original governor oil hydraulic device. It can be widely applied in the governor system of hydropower stations. The pressure transmitting controller is designed based on our rich experiences in product design and application in the hydropower industry. With the reliability guaranteed, it solves the problems in installation, wiring, and commissioning, etc.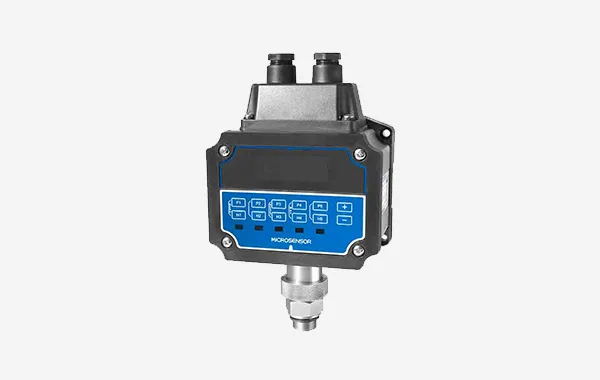 MPM4881 Pressure Transmitting Controller
Besides the standard pressure transmitting controller, we are able to offer customers complete pressure monitoring and sensing solutions based on pressure transmitters according to your unique requirements.
Commissioning Site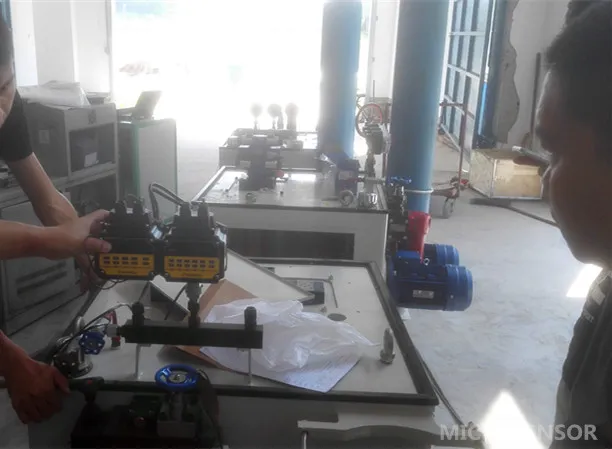 4. Advantages
1) Reliability Assurance
> Each control contact of our pressure transmitting controller is equipped with relays, realizing high load capacity. It can be used to replace traditional electric contact pressure gauge and solve the hidden problems of bad contact, malfunction, or failure caused by a spark.
> The action point of the pressure transmitting controller could be adjusted and the return difference could be set according to the oil pressure of the governor system, effectively preventing the action shift (oil pump repeatedly incorrect start/stop) due to the frequent start-up or unstable oil pressure.
> Under maximum load, the switch could act above 100,000 times, guarantees the long effectiveness and stability of the control contacts.
> The pressure control and automatic air make-up of the oil hydraulic system can be realized independently for its stability and reliability.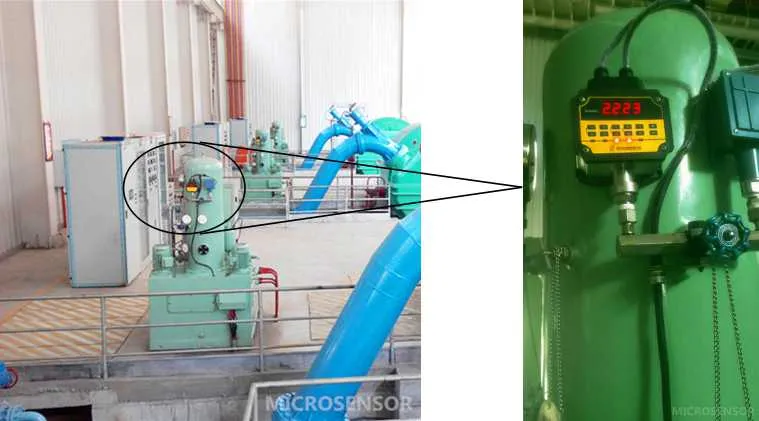 Impulse Governor System in Hydropower Station
2) Real-time Display and Monitor
> Various standard analog outputs can be set as per the actual situation on site.
> The stable analog output serves to connect with PC, LCU system, and other secondary instruments, realizing measuring data display possible after long-distance transmission.
> Pressure transmitting controller outputs analog and switch signals which can be input to the corresponding PLC, offering an essential basis for "automatic system controls governor system" and parameters for automatic and manual adjustment of LCU system.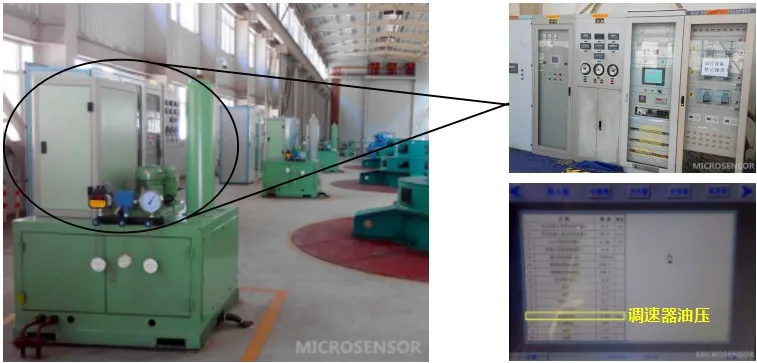 Data Collecting and Control of LCU System
> The analog output and control contacts provided by a pressure transmitting controller assists the LCU system to realize the alternative operation of main and spare pumps.
> Together with liquid-flow annunciator (i.e.MFM500 flow switch), two pumps spare to each other, guaranteed the normal operating oil pressure of the governor system.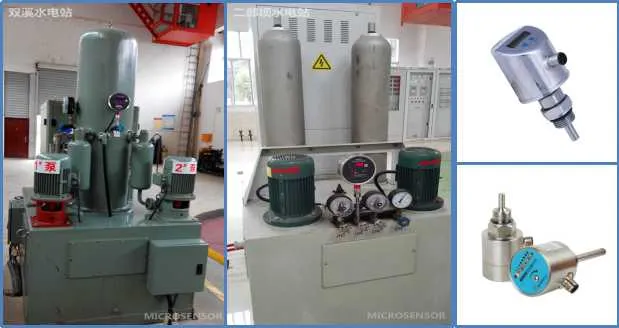 Main and Spare Pumps
3) Complete Systematic Protection
> The accurate and stable output prevents malfunction or rejecting action after long-time use;
> Set alarm point of accident oil pressure, providing reliable monitoring variable and automatic self-protection for governor system realizing
> Provide reverse connection protection, overpressure protection, preventing failure and damage of governor due to the product failure;
> Together with other mechanical pressure switches on-site, realize dual redundancy protection, preventing damage of system and equipment parts.
4) Optimized installation
> Various installation methods, applicable for different requirements;
> Apply removable contact installation, applicable for monitoring positions with small space, and difficult to perform dismantling.
> Apply removable terminals, easy for electrical connection;
> Equipped with terminals protection cover or waterproof contacts, preventing dust and short circuit.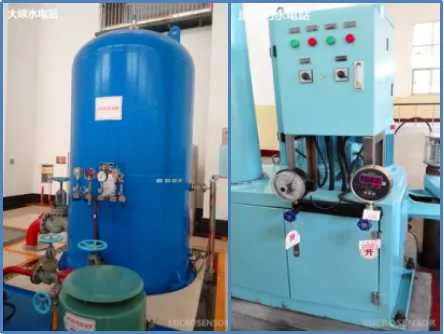 Electronic and Mechanical Products Application Site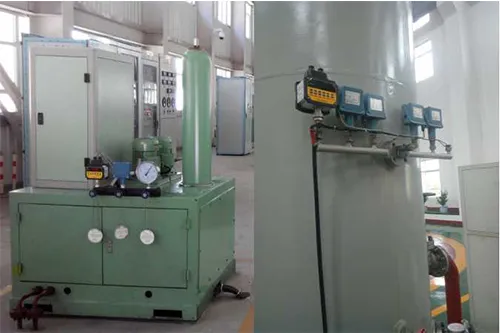 Installation at Working Site
The pressure transmitting controller is suitable for the governor system and helps to develop the self-protection and automatic operation of hydropower stations. It can be used to other equipment and auxiliary systems like control of water supply pipeline compressed air system and inlet main valve control system and so on, assisting to solve the problems of the original control systems, much applicable for industry.

Pressure and Differential Pressure Pressure Monitoring of Air Compression System
Monitoring of Inlet Main Valve

Pressure Monitoring of Pipelines Pressure Monitoring of Hydraulic Measurement System
We have offered pressure solutions in oil hydraulic system of hydropower stations to many customers all around the world. If you have any requirements in pressure measuring and sensing, feel free to contact us via sales@microsensor.cn.
Common products in the hydropower industry:
Pressure Transmitter: MPM480/MPM489/MPM4730/MDM3051SDP
Level Transmitter: MPM4700/489W/MPM416WK
Flow Meter: MFE600
Pressure Transmitting Controller: MPM4881
Temperature transmitter: MTM4881 Temperature Transmitting Controller