MEMS Measurement Principle
The core part of the MEMS pressure sensor is a piezoresistive pressure sensing die processed by MEMS technology. The pressure sensing die is composed of a springy diaphragm and four resistors integrated into the diaphragm. Four piezo-resistors form a Wheatstone bridge structure.
When the springy diaphragm is pressured, the Wheatstone bridge will output a linear proportional voltage signal with the pressure on. Without pressure changes, there is no output thus consumes less power.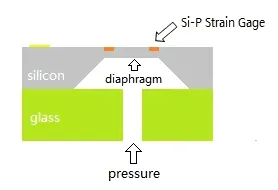 MEMS Pressure Sensor Construction
Introduction

MEMS pressure sensor integrates pressure sensing element and digital conditioning chip, compensating the drift, sensitivity, linearity parameters digitally. Relying on the voltage power supply, this pressure sensor outputs a standard voltage signal which is calibrated and compensated. It is suitable for the pressure measurement of non-corrosive pure gases.
Based on MEMS technology and SOP, DIP, COB packages, etc., MEMS series pressure sensors are designed for pressure measurement of non-corrosive pure gases. Our MEMS pressure sensor features as below: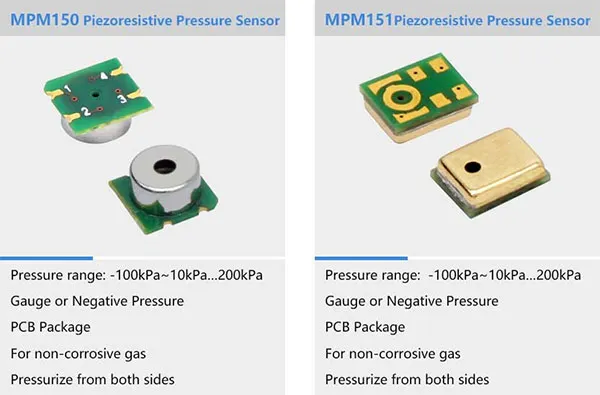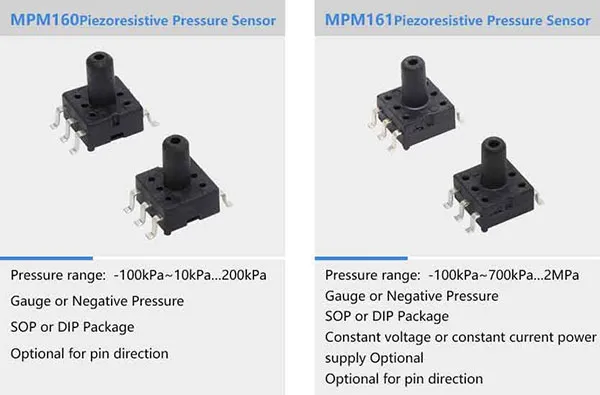 MPM7847 MEMS Pressure Sensor MPM7848 MEMS Pressure Sensor
MPM7857 MEMS Pressure Sensor MPM7858 MEMS Pressure Sensor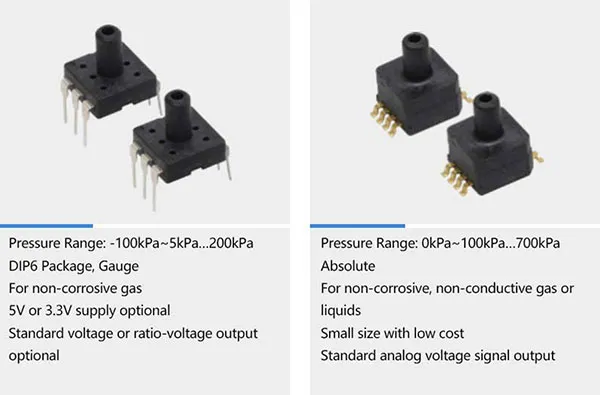 MPM7867 MEMS Pressure Sensor MPM7868 MEMS Pressure Sensor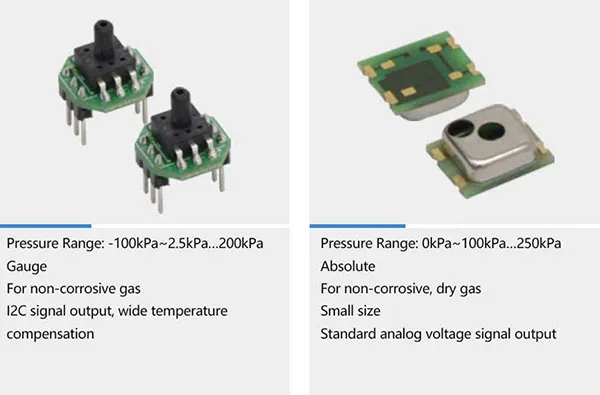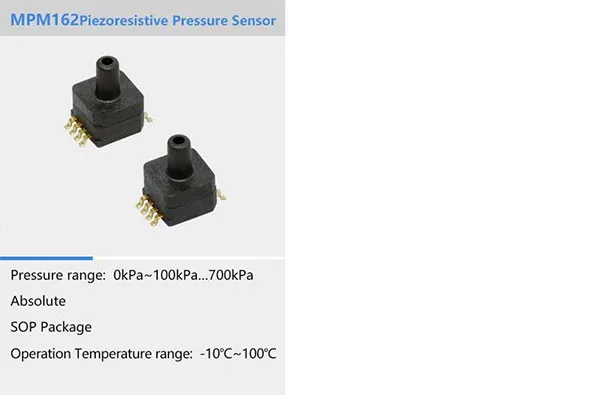 Advantages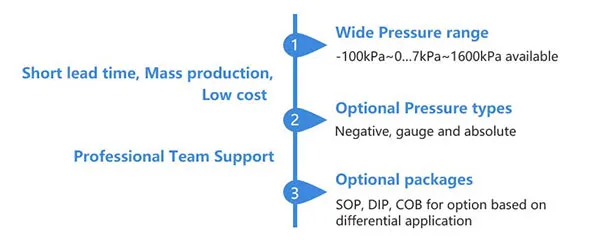 Applications
Relying on features of small size, low cost, etc. MEMS pressure sensor is widely used in biomedicine, automotive electronics, and so on.
·For medical fields, such as electronic sphygmomanometer, breathing machine, oxygen generating equipment, patient monitor, etc.
·For automotive electronics fields, such as tire pressure gauge, brake booster, power steering, and MAP sensor, etc.
·For small home appliances fields, such as water heater, dishwasher, water purifier, small crisper, etc.
·For wearable equipment fields, such as intelligent bracelets, watches, etc.
·For fitness equipment fields, such as massagers, massage chairs, air beds, etc.
·Other fields, such as vacuum pump, vacuum generator, compressor, pressure meters, etc.



Contact Us

Micro Sensor aims to provide products and solutions of pressure, temperature, and flow measurement. For more details, feel free to contact us via sales@microsensor.cn.
Previous Posts:Brand New Upgrade Flow Switch MFM500A
Next Chapter :Pressure Transmitter Specialized for Variable Frequency Water Pump Application