The petrochemical industry generally refers to the chemical industry that uses oil and natural gas as raw materials. It plays an essential role in the development of the national economy.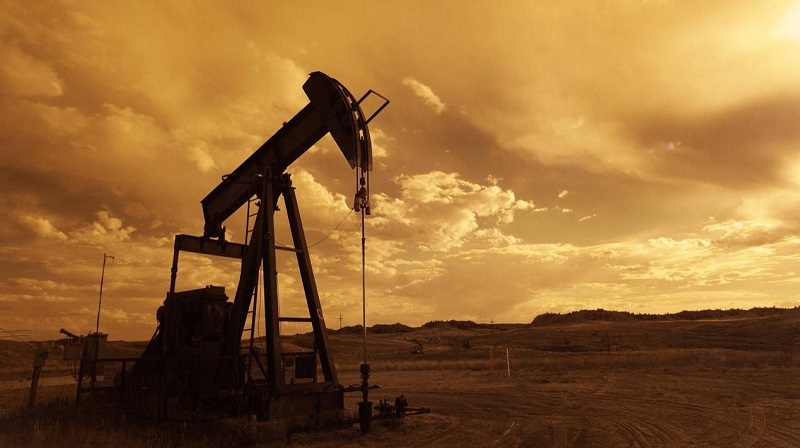 Petroleum products are involved in every aspect of human life which include kinds of fuel oil and lubricating oil obtained through processing, as well as some liquefied petroleum gas, petroleum coke and other materials. The process of obtaining such substances is called petroleum refining, or oil refining. The refining process includes multiple steps such as atmospheric distillation, vacuum distillation, hydrocracking, and refinery gas processing.
To save costs and detect changes in key indicators (pressure, flow, temperature), installing various monitoring instruments can detect abnormal conditions in the oil production process in time and take corresponding treatment measures.
Micro Sensor provides professional monitoring equipment and solutions for the petroleum refining process. It makes refining production more controllable, reduces the labor intensity of workers, and ensures production safety. Our solutions can promote the intelligent, refined and digital transformation of refinery production.
Oil and Gas Gathering
After centralized treatment of oil and gas produced by scattered oil wells, qualified products must be transported. Real-time monitoring of pipeline data parameters can be realized in gas collection and collection pipelines, crude oil transmission pipelines, pressure and temperature transmitters, vortex flowmeters, turbine flowmeters, etc.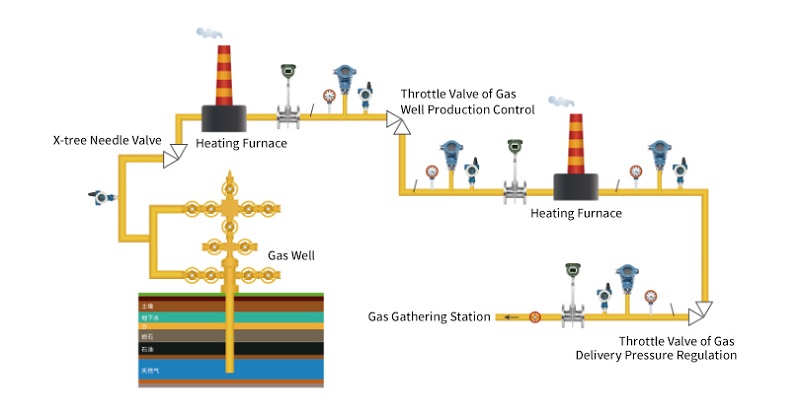 Oil and Gas Refining and Purification
The centralized processing station, oil pressure dehydration station or gas compressor station will process crude oil and oilfield gas to produce oil and gas products that meet export standards. Temperature and pressure transmitters, mass flowmeters, vortex flowmeters, electromagnetic flowmeters and other products can be installed in dehydration and other processes. The monitoring equipment installed on the oil and gas refining system can monitor production data in real time to ensure the normal operation of refining processes such as water injection, separation, and dehydration, etc.
Micro Sensor Recommended Products
1. LUGB Vortex Flowmeter



• Measurement media: liquid, gas, steam

• Media temperature: normal temperature: –40℃~80℃; medium temperature –40℃~280℃; high temperature -40℃~350℃

• Media pressure: 16bar, 25bar, 40bar, high pressure can be customized

• Turndown ratio: 1:10 (theoretical value)

• Basic error: Liquid: flange (clamping) type: ±1.0%; plug-in type: ±1.5%; threaded type: ±1.5%; Gas: ±1.5%

• Output signal: pulse signal 1Hz~2600Hz

• Transmitter: two-wire system 4mA~20mA DC, can be configured RS485 standard Modbus signal, Hart signal

• Simultaneous display of cumulative flow and instantaneous flow

• Flameproof type: ExdⅡBT4



2. LWGY Turbine Flowmeter



• Used for ultra-pure water flow measurement; suitable for installation at the water outlet for clean water flow monitoring

• Designed high-quality deflector, which significantly reduces wear and tear

• Insensitivity to peak value, reliable data monitoring even in harsh environments

• Pulse output signal is easy to digitize

• Accurate measurement: The accuracy can generally reach ±0.5%R, ±1.0%R



• Measuring range: DN25~DN200;

• Accuracy: ±0.2%FS; ±0.5%FS;

• Working temperature: -40℃~60℃;

• Output: 4mA~20mA DC; Hart; frequency, pulse; RS485 (ModBus protocol) RS232 output;

• Certification: TS, CNEX, CE, CCS



• Measuring range: -200°C~500°C;

• Accuracy: 1.0%FS (-200°C...0°C~500°C); ±0.5°C(-40°C...0°C~150°C); ±0.25°C(- 20°C...0°C~105°C )

• Working temperature: -25℃ ~70℃;

• Output: 4mA~20mA DC; 4mA~20mADC+HART; 4mA~20mADC+RS485; RS485; thermal resistance;

• Certification: flameproof, CNEX approved, CCS approved



5. MPM483DM Pressure Transmitter
• Measuring range: -100kPa…0kPa ~ 10kPa…100MPa

• Intrinsically safe, explosion-proof mark: Ex ia IIC T4 Ga

• Explosion-proof mark: Ex d IIC T6 Gb

• High Accuracy: ±0.25%FS

• High Stability: ±0.25%FS/Year

• High-level electromagnetic compatibility

• LCD display

• RS485; 4mA~20mA dual output



6. MFC608 Coriolis Flow Meter
• Measuring mass flow directly, not affected by temperature, pressure, flow rate, etc.

• Accuracy up to batch level 0.15, good repeatability of 0.25%

• High measurement stability

• Range ratio up to 20:1

• Integrated design, small size, easy installation

• Can measure uniform multiphase flow

• It can measure uniform fluid with general viscosity, high viscosity fluid and non-Newtonian one-way fluid

• Can display mass flow, volume flow, cumulative flow, density, temperature and other parameters

• Good anti-corrosion performance, different materials can be used to measure various common corrosive fluids

• A variety of flow tube designs and flow rate ranges are available to meet the measurement needs of any process and application

• A variety of sensor interface sizes, transmitter installations and a wide range of output signal options to maximize compatibility with your system



· Accuracy: ±0.075%,±0.05%,±0.1%URL

· Range: 60mbar~100bar

· Long-term stability: ±0.1%SPAN/5years

· Maximum turndown ratio:100:1
In the future, Micro Sensor will continue to conduct in-depth research in the petrochemical field, and provide customized professional equipment and monitoring solutions for this complex and huge industrial application field.