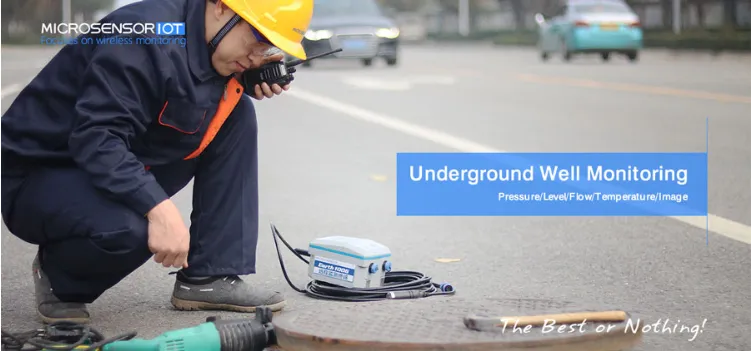 1. Introduction
The underground remote monitoring terminal is a portable monitoring device with low power consumption, IP68, wireless communication, and various sensor data collection. It is suitable for the monitoring fields without the power supply condition and the abominable environment. It could realize the mix-used functions including data collection, storage, alarming and transmission for applications of underground water, firework safety, dam leakage, water supply pipeline, especially for underground well application.
2. Topology Diagram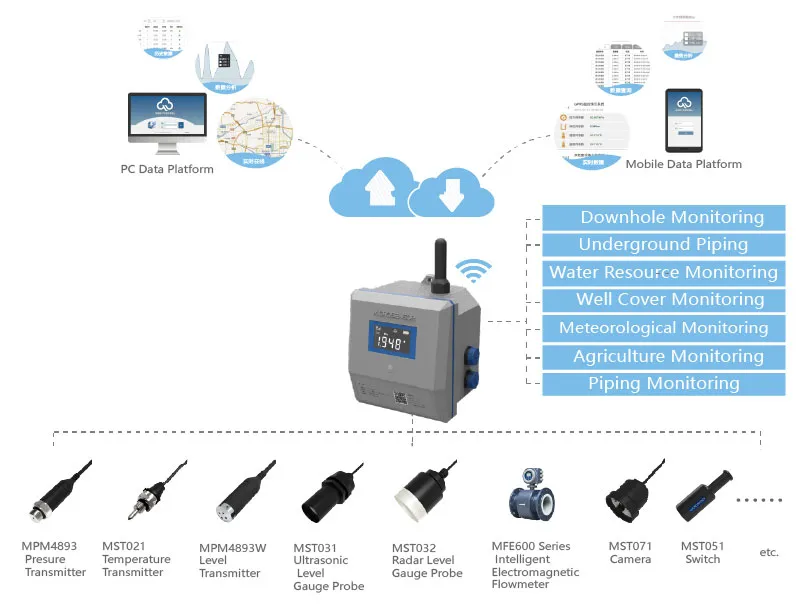 The sensing layer applies our cost-effective sensors including pressure sensor, pressure transmitter, level transmitter, temperature transmitter, ultrasonic level sensor probe, radar level sensor probe, electromagnetic flowmeter, industrial video camera, and switch (for abnormal move Of the well cover), etc.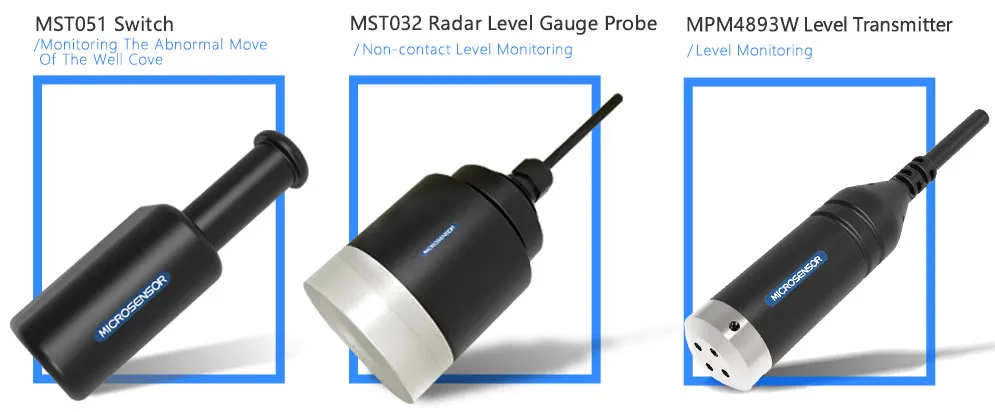 Visit iot.microsensor.cn for more details.
3. Features
(1) IP68
Data transmission is normal under 1m water with 720 hours testing
Adapt to the harsh environment like long-time submerged, soaked, high humidity, alternating hot and cold, sewage corrosion in the well.
(2) Low Power
Battery/Mains power supply for option
It adopts a large capacity and a good performance lithium battery pack with 57Ah. It could feed the sensor and send a piece of data each day and its lifespan is over 5 years.
(3) Non-contact activation, Real-time display

Real-time display for sensor channel value, device status, battery voltage, and signal status, etc.
(4) Remote Configuration
Setting for upper and lower alarm limits, collecting interval, transmitting interval, picture taking interval and IP address, etc.
(5) Multi-channel collection, meet more needs
8 monitoring values collection simultaneously, comprehensive monitoring for site situation
Support RS485, analog signal, switching signal, pulse signal input
(6) Multi-network communication, global communication
2G/Global bands/NB-IoT/LoRa multi-network communication
Wireless data transmission, no field wiring, easy installation
(7) Data Platform
Check real-time/ history/ alarm data through the data platform both by PC and mobile
Support on-line deploying customer serve
Database and communication protocol open, provide interface parsed file
4. Software Support
Micro Sensor Big Data Platform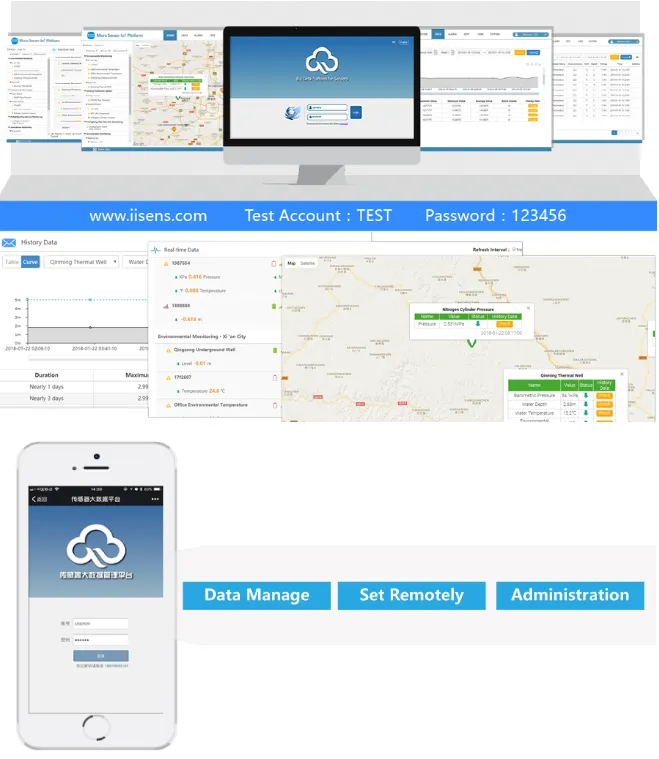 Customers can check real-time, history data conveniently through mobile devices to know site conditions better in time.
5. Specifications
Interface
3-way AI, support various transmitters with standard output like 0V~5V/4mA~20mA DC, Collection accuracy: ±0.5%FS
2-way DI/PI, support switch/pulse input
1-way RS485, support ModBus RTU protocol
1-way camera interface
Data Transmission
Communication Mode: 2G/Global bands/NB-IoT/LoRa
Wake-Up Mode: magnetic activation/timing/alarm wake-up
Upload Information: sensor data, battery voltage, signal status, self-check information.
Configuration
Mode: local and remote configuration
History storage
Local storage: Flash 4MB (more than 200,000 history data storage space)
Display
Segment LCD, with backlight
Environmental condition
Working temperature: -20℃~70℃
Relative humidity: 0%-95% RH
Storage temperature: -40℃~85℃
Power
Power Supply: 14.4V high-performance lithium battery/8~28V DC/110~240V AC
Battery Lifespan: 3~5 year (related to transmission frequency)
Power Consumption: Sleep current ≤30uA@14.4V, Transmission average current≤50mA@14.4V
Feed: 100mA@14.4V DC
Others
Protection: IP68
Housing Material: PA6+30%GF
Installation Method: hoop and wall mounting
Weight: ~2.3kgs
Outline Dimension: 147*162*105.5mm (antenna except)
Accessories: magnetic bar *1 , fixed support*1, M5 bolt*1 , ф8mm expansion bolt*3, ф200mm hoop *2
6. Contact Us
We have a professional R&D team, capable of providing you customized solutions according to your unique requirements. Feel free to contact us via sales@microsensor.cn.