Before introduction, you may want to know what certificates and approvals our sensor and transmitters are rated.


Differences Between Pressure Sensors and Pressure Transmitters
Pressure transmitters are known as pressure sensors in some areas.
A pressure sensor generally refers to a sensitive element that converts a changing pressure signal into a corresponding changing resistance signal or capacitance signal, such as a piezoresistive element, piezocapacitive element, and so on.
Pressure transmitter generally refers to a complete set of circuit units for measuring pressure composed of pressure-sensitive elements and conditioning circuits. Generally, it can directly output standard voltage signals or current signals that are linearly related to pressure for instruments, PLCs, acquisition cards, etc. collected directly from the device.
The difference between a pressure sensor and a pressure transmitter is that the output of the pressure sensor is an mV signal while the pressure transmitter outputs a standard voltage signal, current signal, and digital signal.
With years of experience in developing and manufacturing piezoresistive pressure sensing and measuring products since the 1970s, Micro Sensor offers pressure transmitters, pressure sensors as well as level sensors and transmitters. We offer standard pressure sensors and transmitters and we customize our transmitters for specific needs in both general and the process industry.
Types:
1. Pressure sensor modules capability

Micro Sensor offers oil-filled piezoresistive pressure sensors for most of the liquid and air measurement, Fluorolube oil-filled sensors with cleaning process for O2 measurement, and golden coating type for H2 measurement. Based on specifications like materials, diameters, and threads, etc, we can offer customized pressure sensors.

2. Static pressure transmitters and level transmitters
Micro Sensor offers static pressure transmitters as well as level transmitters, suitable in industrial process control for pressure measurement such as water liquid, petroleum, diesel, DEF, and tanks, etc.

MicroSensor Sensors Applications
1. Level Transmitter for Remote Tank Level Monitoring
Remote monitoring through digital monitoring equipment does not only provide data support for fuel supply manufacturers, optimizes fuel delivery routes, but also improves production efficiency and reduces costs.
Based on different tanks, accuracy requirements, installation requirements, and price demands, Micro Sensor provides a variety of reliable products for customers to use in the monitoring process like submersible level transmitters, radar level transmitters, magnetostrictive liquid level sensors, etc.
Details solution and related products here.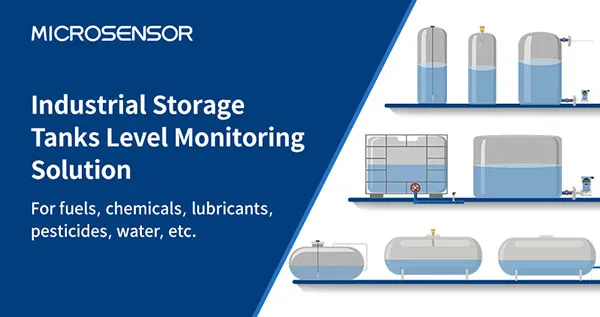 2. Pressure & Differential Pressure Transmitter for Bulk Cryogenic Tank
Industrial gases can be widely used in many industries which have higher requirements. Micro Sensor offers oxygen-cleaned differential pressure transmitters and pressure transmitters. They are Fluorinated oil-filled and widely used for monitoring the liquid level in the cryogenic gas tank to help monitor the real-time pressure values in the production, storage, supply, and use of industrial gases, and realize gas production equipment and storage tanks through supporting systems. Our cleaning standards are compatible with ASTM-93 and CGA 4.0.
Details solution and related products here.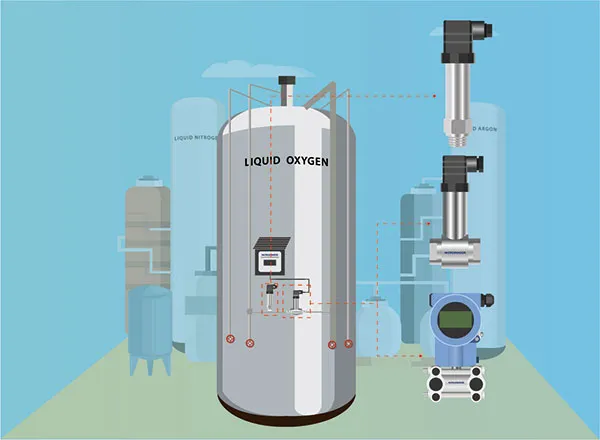 3. Pressure Sensors for Inkjet Printers Monitoring solutions
Pressure sensors in inkjet printers control the pressure applied to the ink to achieve the desired quality of inkjet. MicroSensor provides high-precision and sensitive pressure sensors for industrial inkjet printers. The MPM3801 pressure transmitter outputs a digital IIC or SPI signal, which can monitor pressure and temperature at the same time. The MPM280-PC3 pressure sensor is easy to clean and hard to be blocked thanks to the flush diaphragm and the compact size is more flexible for installation.
Details solution and related products here.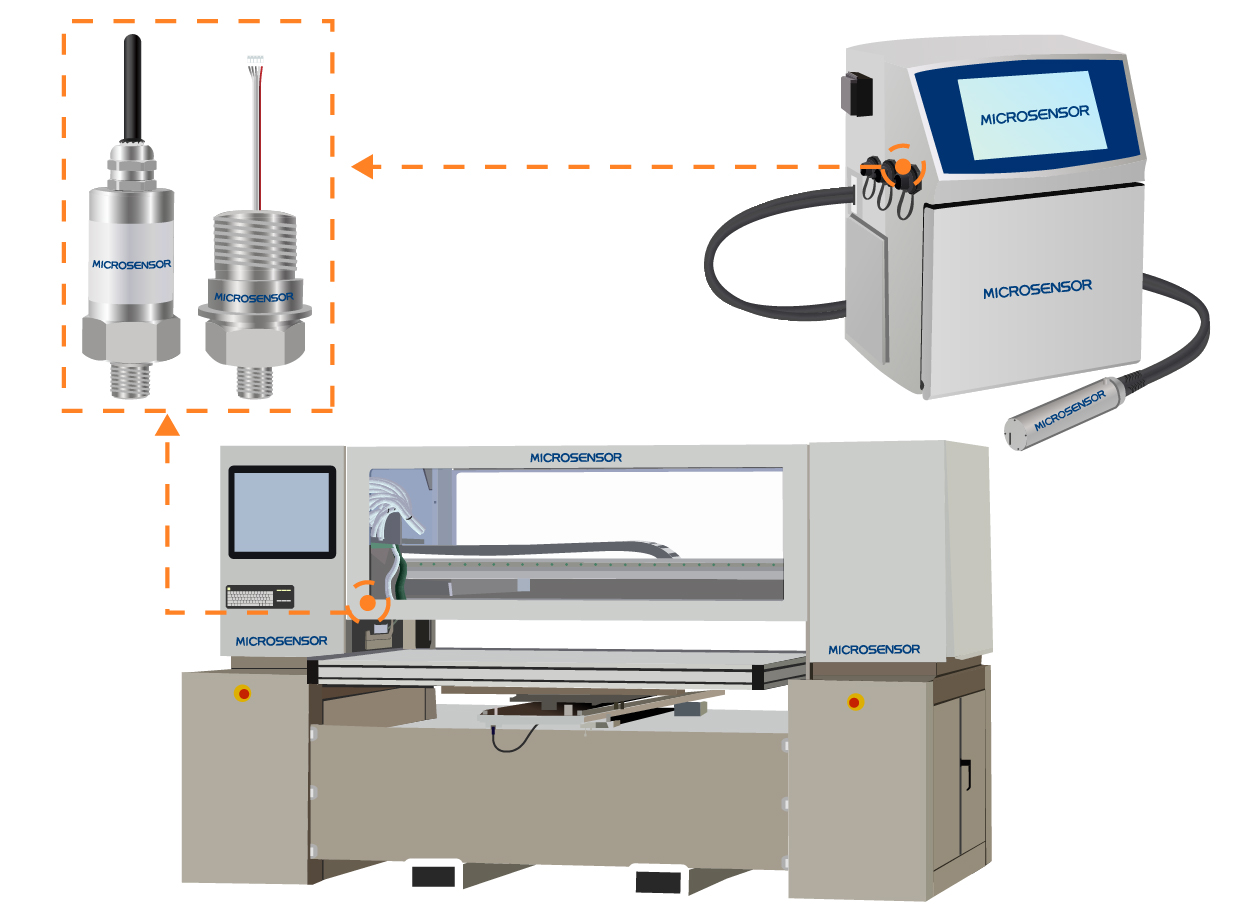 4. Pressure Sensor for Coffee Machine Pressure Monitoring
The quality of espresso depends on whether the coffee machine can provide the right amount of steam, and the right temperature of the water. MicroSensor provides coffee machine manufacturers with high-precision and stable pressure sensors, which can monitor the pressure in the high-pressure chamber and the temperature of the water, so as to improve the coffee production efficiency while ensuring the taste and quality of coffee.
Details solution and related products here.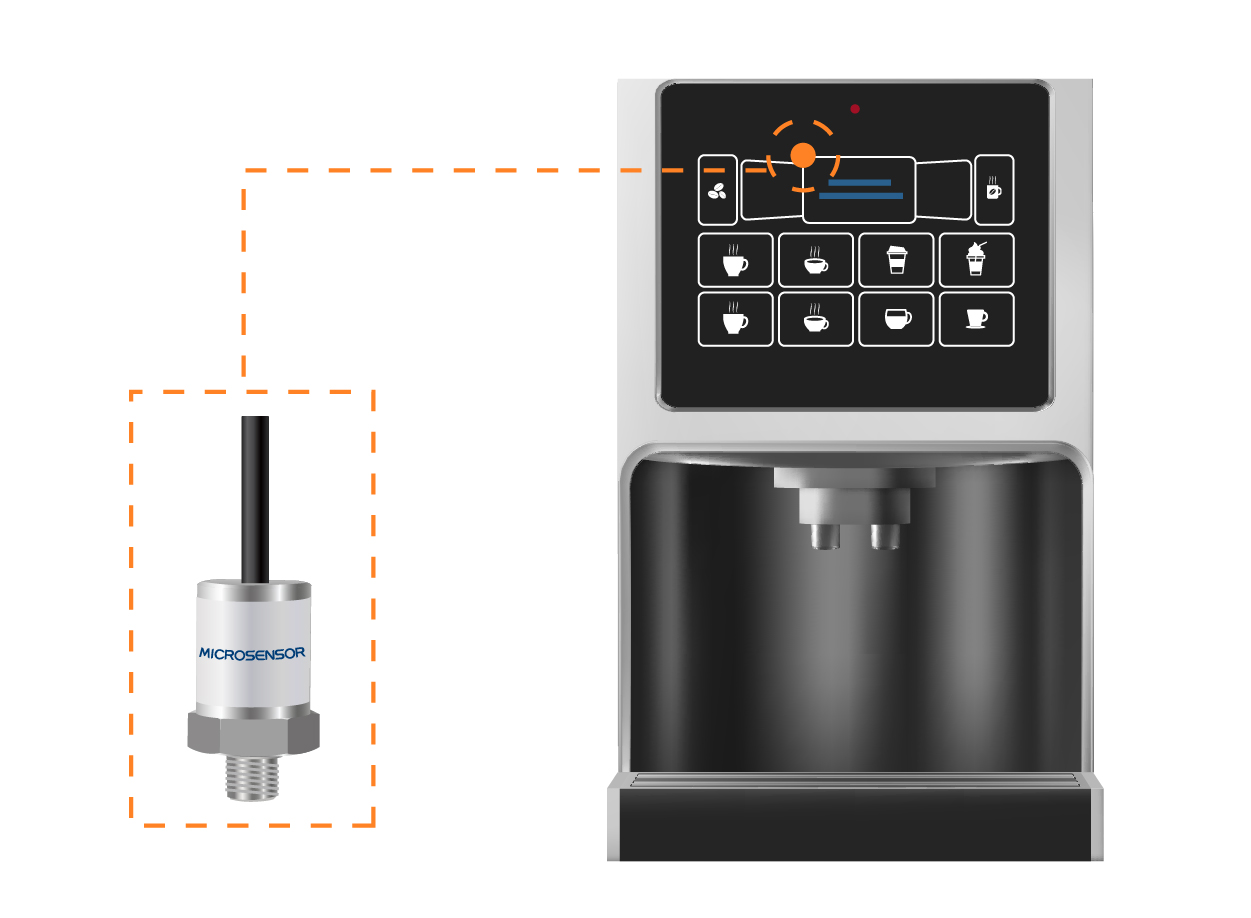 Customized Solution
Apart from the applications mentioned above, MicroSensor can provide customized sensors and transmitters according to customers' unique requirements. Whether you need a general type or unique requirements, please feel free to contact us via sales@microsensor.cn or leave messages below, we'll help you meet your sensing needs.